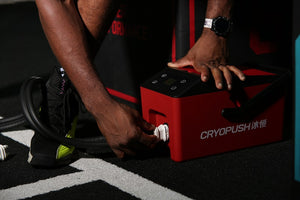 Cryo Push cold compression device
Promotes postoperative healing
Cold compression
Controls swelling and effectively relieves pain without medication. Research-proven cold compression suppresses pain locally without the need to take medicine for the whole body.
For tears, swelling and recovery
Sports performances
You no longer need to tape a bag of ice cubes to your limb or immerse yourself in an icy pool. All this can be found in the same device.
To reduce pain
Surgery
Recovering from knee, elbow, shoulder, back and ankle surgeries is often excruciating pain that is alleviated with medication. Cold compression is an alternative to pain relief, reducing the constant intake of medication.
Applications of the cold compression device
For acute injury and pain treatment
Ligament injuries of joints, e.g. ankle, knee and shoulder, or so-called clubfoot and other traumatic muscle injuries with intramuscular bleeding. A drug-free alternative to pain management.
For post-operative rehabilitation
Ankle and knee operations and examinations (acl/mcl), artificial joint operations (knee/hip), various shoulder operations and hand surgery (e.g. wrist).
Active rehabilitation phase
The patient starts active rehabilitation after the operation, as instructed by the doctor and physiotherapist, and starts putting loads on the joint. Cryo Push effectively removes swelling and soothes possible inflammation caused by exertion, thus speeding up the return to a normal active life.
Regression
Many professional and recreational athletes rely on cold compression therapy both as an injury prevention and performance recovery treatment.
The biggest difference is the price. Game Ready pays for the brand, while Cryo Push pays for the features. Both are cold compression devices that work with water and ice cubes.
Another of Cryo Push's cold compress devices is very similar to Game Ready. It uses water and ice cubes. The cheaper version, on the other hand, uses refrigerated gel packs. So both use cold and compression as help. A gel pack can even be more convenient if ice cubes are not available.
We will deliver the ready-to-use devices to the nearest Posti service point to the address you have given,
where the device can be picked up within 1-3 business days after the device is sent.
Take the device to any Posti or Matkahuolto service point and use the included return label.
The return is free of charge.
It is possible to extend the rental if there are no other customers in the queue. Contact us and wait
confirmation for extending the duration of the rental.
Yes. You can primarily rent for one week and assess as the rental progresses how long you need to use the device.
Typically 15-30 minutes. The device can be used throughout the day, as long as there is always a break of at least 30 minutes between treatments lasting a maximum of 30 minutes.
Depends on individual needs. The most typical rental duration is 2-3 weeks. When the worst pains and the strongest swelling have subsided, you can gradually reduce the use of the device.
Sometimes yes. There are differences between insurance companies and policies. Please check with your own insurance company.
Examples of applications
Knee bandage
ACL (anterior cruciate ligament surgeries)
Collateral injuries and surgeries
Spiral injuries and repair operations
Knee replacements
Jumper's knee
Ankle bandage
Sprains and tears of ligaments
Achilles tendon injuries and surgeries
Big toe surgeries
Ankle sprains
Other surgeries in the ankle area
Fill in the information in the form and we will contact you.
We deliver the device to you with instructions for use and return.
We will send an invoice when the rental has ended.
Information about products and technology
CryoPush Pro 2.1
A container filled with water and ice cubes, which is controlled from a digital screen. The orthopedic bandage is connected to the device by means of a connecting hose, where pressure and cold water circulate. Seven orthopedic bandages. Compression level 0-120mmHg.
CryoPush Pro Mini
Refrigerable gel packs that are convenient to carry around thanks to the small device. The device adjusts the circulating pressure and thanks to the battery it can be used everywhere. Four orthopedic bandages. Compression level 0-100mmHg.
Is there anything left to think about?
Contact us and we will be happy to answer additional questions.